アフタヌーン・セミナーとは、サイマル・アカデミー受講生特典として実施している無料セミナーで、"学んだ語学を活かす"ためのセミナーです。
趣味や芸術、旅行などをテーマにしたネイティブ講師によるスピーチや、通訳者/翻訳者による『通訳者/翻訳者への道』といったスピーチが行われます。
スケジュールのご都合でアフタヌーン・セミナー当日参加できなかった受講生の皆様に、また、サイマル・アカデミーでのご受講をご検討いただいている皆様にも、担当講師より当日スピーチした内容やお伝えしきれなかった事などをご紹介します。
今回の記事は・・・
2013年8月21日実施したMark Twymanによる「British Food」のアフタヌーン・セミナーです。
本来のイギリス料理とはどのような物であったのか、そして工業化や戦争などの歴史を通じてどのようにそのスタイルが変わっていったのか。なぜイギリス料理は不評を呼んでいるのか。など、Markならではの視点でBritish Foodを紹介してくれました。
セミナー参加後は、これはイギリスに限ったことではない。伝統的な日本食を未来につなぐことができるのか…と考えさせられました。
みなさんも"食"について、見直してみませんか?
Part 1、2をまだ読んでいない方は、是非先にPart 1、2をお読みください。
Part 1 http://simulacademy.jugem.jp/?eid=165
Part 2 http://simulacademy.jugem.jp/?eid=166

---
British Food : A Short History of Influences & why its Reputation is So Poor
BY Mark Twyman
≪Part 3≫
So, my advice is to buy a cookbook focused on British food and give the recipes a try – but remember, you don't need to follow the list of ingredients and cooking processes – please adapt freely – especially to simplify. Finally, a recipe: now that apple season is almost here, here is a dessert. And remember, alter as you like!
Apple Crumble
For the base, you need a couple of apples (depending on size), a glass or so of rum, a couple of cloves, a cup of raisins and sultanas and one or two preserved ginger stems.
Soak the raisins and sultanas in the rum. Peel, core and slice the apples and put them in the bottom of a deep oven dish with the sliced preserved ginger and cloves – they should reach about half to two thirds up the dish.
For the topping you need equal measures flour and sugar, 100 grams or so of butter, a grating or two of nutmeg and a teaspoon of cinnamon (optional sliced almonds).
Put the sugar and flower into a large bowl dice the cold butter into the bowl. Rub the flour, sugar and butter between your fingers to make what looks like crumbs. Stir in the cinnamon and grated nutmeg.
To assemble, mix the rum and raisins and sultanas into the apple and preserved ginger and cloves (you might like to add a sprinkling of sugar.) Then put the crumb mixture on top – it should be a centimetre or more from the top of the dish (as the apples bubble up through the topping). Sprinkle with sliced almonds if using. Bake in a 180 degree oven for about 25 minutes, the apples should be soft and bubbling and the top should be browned. Below is a picture as a guide.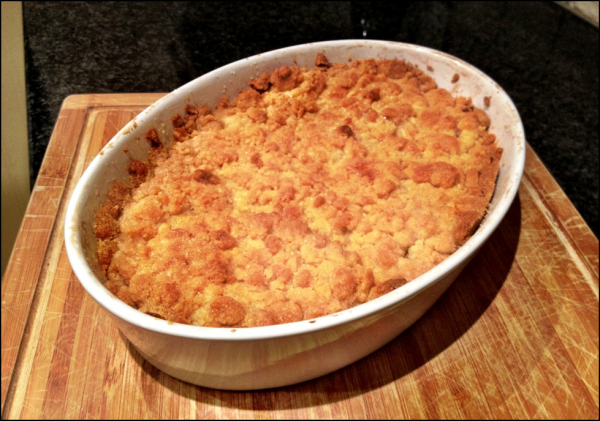 Apple Crumble
Mark Twyman:
He's been cooking since he was 12 and come from a family of food enthusiasts. He really started cooking seriously when he went to university. His interest in English food came about when he found a book of 17th century recipes. Since then his library of English food cook books has grown. Recently, many professional chefs have been marrying old combinations of ingredients with modern ones using a variety of cooking techniques and English food continues to develop.